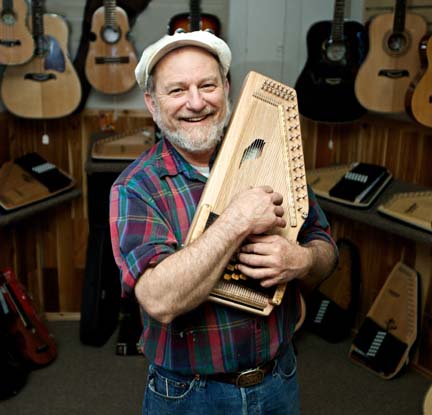 The Evo Bluestein Sparrowharp originally designed for younger smaller arms, has sparked the interest of travelers, performers, teachers, and the casual player. Redesigned and built by d'Aigle Autoharps, it has opened to rave reviews. Evo conceived of this autoharp to fill the need expressed by many for an autoharp which is easier to hold and play.
This is the little autoharp with the mighty voice. At only about 5 1/2 pounds, it is the smallest and lightest 36 string autoharp available. Yet it has a voice much larger than its size might imply. It is also a very affordable autoharp.
The top and back are instrument grade Okume  ply, made in France.  The frame and exposed edge are maple pin block.  This coupled with innovative acoustic bracing have produced an autoharp which has exceeded our expectations.

The Sparrow is for travlers, performers and teachers, and the casual player. Anyone who needs something smaller and lighter, easier to get around, will love the Sparrow.
e Sparrow comes with 15, 18 or 21 chord bars. We recommend 15 or 18 bars, but it will accommodate 21 if you feel you want them. You will be giving up some playing room at the high strings though.
It is configured as a chromatic, or a diatonic in FC or GD. The standard layouts are patterned after the Bryan Bowers system, but you can order it in your preferred layout.
When you order one here, you will be contacted to settle details of your order.
We try to keep Sparrowharps in stock, but there is sometimes a wait of up to two months. To find out the current status before ordering, call or email with the information at the bottom of this page.
It comes with a nicely padded case with back pack straps, strap buttons, tuning wrench, and warranty.
Reviews from our wonderful customers.
"Today, I have good news. I received your Sparrowharp. Your package arrived at my house. It is very beautiful. Thank you, thank you very very much." - Taeko Ikegaya, Japan
"We received one of Evo's New Sparrowharps today. You wouldn't think that a small harp would be so responsive. Even playing with bare fingers yields a good result. Maybe the strings being a little closer yields some sympathetic vibrations with adjoining strings.. Whatever it is, the harp is smooth, clean sounding, full of nuance and sweetness. Bravo to all responsible for this harp." -Richard and Angela in Tennessee
"Nice little 'harp -- very comfortable to hold, good tone and more volume than I expected." -Jo Ann Smith, Autoharpist
"The Sparrowharp arrived this afternoon.The tone is lovely. I love the wood. The whole thing is better than my wildest anticipation." -Ms. Billie Dunk, Illinois
Dylan Healy, 8, a huge talent in central California, is thrilled with her early Christmas present, a 3/4-sized Sparroharp.
"I received my autoharp and it is just beautiful and plays like a dream. It is everything I hoped it would be and fits me to a tee. It arrived in excellent shape and in tune and it just great. Thank you." -Cheryl Harris, Evansville, IN
A Sparrowharp Story: I find it to be the perfect accompaniment for my hospice clients. Hospice staff sent me to visit an elderly woman who was in her final days of life but going through what we call, terminal restlessness. She had been shrieking and thrashing in bed for 3 days. She hadn't slept, and neither had her husband or family. When I arrived at the home, everyone was in a state of wide-eyed desperation. Now, I'd met with this dear lady on previous occasions and knew she so loved to hear and even sing the old hymns with me. So, sitting at her bedside, I took out my Sparrowharp and began softly playing and singing: How Great Thou Art, Amazing Grace, The Old Rugged Cross, and many others. Within 10 minutes, this precious one was quiet, then humming along with me, then in a few more minutes, fell fast asleep. After about half and hour, I slipped out the door, whispering farewell to the one family member who was still slightly awake. Within 12 hours, she was 'home' singing with the angels. Thank you so much for caring and for producing such a useful instrument, With gratefulness, Ruth Palnick, Spokane, WA
or