Also See: (Evo Bluestein SparrowHarp)
Evo wanted to produce an autoharp of fine tone woods, with the light weight, simple features and sound of the autoharps of days gone by.
This autoharp is exceptionally light in weight, has a wonderfully clean sound, and accomplishes Evo's goals in a very elegant way. If you are looking for a light-weight autoharp, this one is for you.
The Evoharp may be set up in any chord bar configuration. Our default configuration is the Bryan Bowers set up. Call us for other configurations or questions about this fine instrument.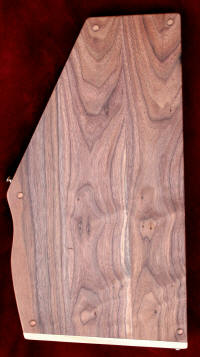 Evoharps have a walnut back, spruce top and maple chord bars, with laminated frames. Each comes with soft case equipped with back-pack straps.